Cool It – Dressing for Fall & Winter.
Posted on December 30, 2010 in Accessories, Casual, Fall, Outfit Ideas, Pick-a-Outfit, Style Theory, Tips.
---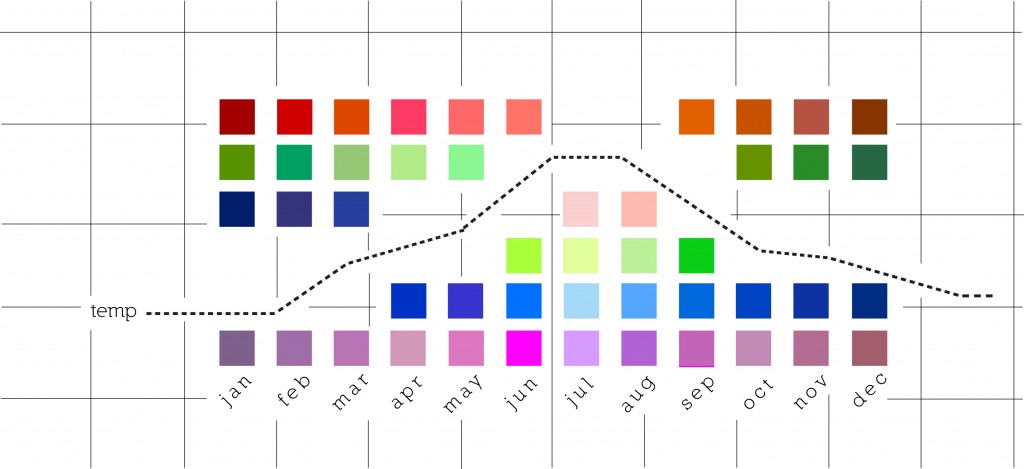 I know it may seem obvious, but as the temperature changes so too should your wardrobe. Guys, this does not mean putting a long sleeve tshirt under your existing summer wardrobe or wearing your trusty 8-year old coat from Macys/Wilsons/Burlington. Dressing for each season goes way beyond wearing temperature-specific clothing. There are subtle idiosyncrasies for each season and a big part of looking put together is understanding the underlying style rules so that you don't look out of place for whichever occasion you're getting shiny for.
Sooooo…my cold weather = Central Texas cold weather, more akin to fall in the Northeast/Midwest and not NE/MW winters. I've several times ended up on my back in the middle of DC sidewalks when it's snowing out because I insist on wearing my boots from Texas (*hint: they're not designed with snow in mind). Definitely not an expert on full-blown winters.
Colors
Color palette is drastically different in the colder months compared to the warmer months. Think earthy warm tones for when it's cold out as opposed to brighter color tones. This means no pastel-ish colored shirts. Your skin will have a naturally paler tone in the colder months which does not compliment the brighter colors well.
This does not mean you only dress in brown, grey, and black. All you need do is adjust the hues of your favorite colors towards the darker side of the scale. If you like green, just choose a shade closer to the forest green end of the spectrum. This is helped by the fact that it is very common for cold weather garments to use heathering, which is just incorporating flecks of grey into fabric to subtly darken the color. See the above awesome graphic (a big ol' thanks to Ms. JCH) which illustrates how color hue is dependent upon outdoor temperature.
If you're doing your post-Christmas shopping now, you're in luck because most men's stores will only have their Fall line out right now which by default will only incorporate muted colors.
Patterns
Just as with the warmer months, go ahead and opt for a nice pattern with your tops. Plaid right now is incredibly popular, simply because it's awesome. Fall/winter plaid are deeper in color than what you'd find in spring/summer offerings. Be careful though, if it evokes images of lumberjacks go ahead and avoid it. Most modern big-box brands make some fantastic plaid shirts that are very stylish. I think that JCrew is making the coolest shirts out there.
These usually are casual shirts, but you can easily dress it up. Throw on a dark solid tie (see more below) to contrast with the pattern of the plaid shirt. Pair this with dark jeans, brown belt and shoes and I promise you that at least one person will comment on your outfit. Honestly, this is one of the coolest looks that a guy can wear. It's a modern take on a very masculine look. More examples of this look can be found here and here.
Advanced move: do exactly what I said above, but while wearing a suit. Make sure that the suit has a modern cut. This works especially well with grey, blue, and brown suits. As a word of caution, do NOT wear this on formal occasions.
Textures
Don't scoff! Texture is actually very important. Just like color choices, each season has a texture that just feels right. I think that it's a visceral thing for most people. You know these rules, you're just not necessarily aware of them
When it's colder out you'll want to go for the more substantial and rougher fabrics: thick wool sweaters, corduroy, and wool sport coats. These heavier fabrics are functionally significant and just look right.
Before I forget (this is a biggie), when wearing corduroy try very very hard to avoid thick waled cords (wale = how wide the ridges in the corduroy are). This is true if the corduroy are pants/jackets/underwear.
An easy way to add some well-needed texture is in your tie. In the outfit I mention above, go ahead and opt for a wool or knit tie to the combination. This immediately adds another dimension to your outfit and makes it all the more appealing. The tiebar.com is an incredibly great resource for stocking up on ties in general.
If you're just building your wardrobe go for the staples: that means solid grey and blue wool ties.
___
Those are the opening rules for dressing for the colder months. I know some of them may seem self-evident or trivial, but once you incorporate them into outfit ideas (more to come) you'll see what I mean. Plus, it makes putting outfits together a bit more fun since it becomes a puzzle. Yes, more fun. Don't judge.