Black Lapel vs. Indochino
Posted on April 3, 2012 in Body Type, Dress, Office Wear, Shirts, Sport Coats, Suits.
---
The continual theme of PG has been that the most important thing you can do to make yourself look better is to wear clothes that fit properly. This usually requires a combination of knowing the right brands to buy and then having the finer points tweaked by a tailor. In an ideal world this would be simplified by having your clothes custom made for you, but this route has always been way too expensive. A new crop of custom online tailors has solved this problem by bringing custom tailored clothes to the masses at incredibly reasonable prices. Indochino has the largest web presence, but new upstarts like Black Lapel could start challenging them. BL is intriguing as it bills itself as having nicer construction and fabric than Indochino, at roughly the same price (BL is a little bit more expensive).
This post will compare my (limited) experience with both companies, to hopefully give you a bit of insight before you pull the trigger on a suit/shirt/pants. I highly recommend going this route. The prices and end result make this an absolute no brainer.
My Sample Size
Indochino:
• 2 shirts about a year ago (both remade)
• 1 pair of trousers purchased a year ago (no remake)
• 2 shirts purchased a month ago (no remake)
• Aided in purchasing 3 suits (1 remake, 2 altered)
Black Lapel:
• 1 shirts purchased a month ago
• 3-piece suit purchased a month ago (no remake, slight alteration)
Fit
My biggest gripe with the fit of IC garments have been the overly-tailored appearance of their final product. There is an extreme amount of tapering around the torso region, creating too much of an hour glass silhouette. I just think the look is slightly feminine and wouldn't work for the average guy. Exhibit A.
BL solves this by offering 3 different fit types for their garments – slim, tailored and standard. I think this is a great idea though it wasn't immediately evident as to the functional differences between the three fits (I was a bit confused). I opted for the most form fitting version: slim fit. This seems to correspond more with the fit of an IC garment.
Suit
The fit of the BL suit jacket is flawless. No imperfections. It's very form fitting so I can't gain any weight in my gut. After my experience, I think the average guy should go for the tailored fit as opposed to the slim. This will give the custom look without the overly-feminine silhouette of the IC suits. Note that in the photo the cuffs of my shirt aren't buttoned (I never button my cuffs). If I had to change anything, it would be to have the jacket be a bit shorter but that's most likely a personal preference.
The cuffs on the pants are a little long, but that's easily fixed by my tailor. The fit is so good for the jacket that it makes me think I may have made a mistake in my measurements.
The vest is a different story from the jacket as it fits a bit boxier than I'd like. I know I tend to prefer my vests to be very form fitting, so this could be particular to me. This is probably something that my tailor can correct.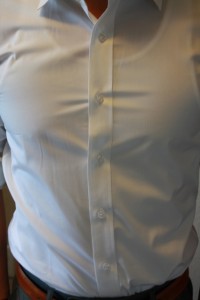 Shirt
The shirts I purchased a year ago from IC were in need of a complete remake (paid for by IC). The fit was far too snug (extreme pulling at the buttons) and the right armpit was much higher than the left. A remake was acceptable but definitely not perfect. I added about a 0.25″ to several of my measurements. Inexplicably, the right armpit was still slightly tighter (causing a slight wrinkle in the front of the shirt). The more recent shirts I received were far better (I used the remake measurements). No remake required, but they still had an imperfection in the right armpit.
In contrast, the BL shirt was flawless in its consistency of fit. The only issue for me was that it was very form fitting, but somehow does not look overly tailored. I did find a bit of pulling at the buttons of my shirt in the chest region and am still deciding if this is something I can live with. The flawless fit (even if the fit was a bit too snug) makes me think that the tailored fit would have been perfect for me. BL did warn me by saying the slim fit is "very form-fitting". They weren't kidding.
Construction/Overall Feel
This is the clear cut winner for Black Lapel. The suit feels very well constructed and light. My experience with IC's suits (again, caveat that this could be old info) was that the suits were very heavy. Also, the chest region seemed to be unnaturally bulky, most likely due to the way in which the suit was constructed. You can read about this in more detail here. Granted, IC could have corrected this problem.
I just found that the BL suit flows more naturally like my much more expensive suits. Derek Tian, co-founder of Black Lapel, told me that their suits are half-canvassed thus accounting for it to drape much better, but also allows for better wear through time.
Material
I couldn't really feel a significant difference in the fabric of my suit. They both seemed to be of solid quality without feeling too cheap or papery. I think IC and BL are similar in this respect. However, the way in which the garment is constructed definitely affects the feel of the suit more than just the material (see above) and this is where BL shines.
The material of the dress shirts is where there was the most difference. My first experience with IC's shirts were that they felt too synthetic and thin. However, my most recent IC purchase felt much more natural and had some decent heft to them.
The BL shirt that I have feels more like my normal dress shirts. Not too thin and see-through, which is important with a white shirt. Aside: in the photo I've got a 'beater on, this is a huge no-no.
Bottom Line
I like both companies. But, in my experience BL is the clear winner, especially for suits. The construction feels better and the fit was flawless. This is huge for me because I hate the thought of going to a tailor after having something made custom. I'm very excited to see their new offerings as they grow their line.
Indochino does offer more choices that work with my existing closet, since right now BL has more basic items that I have plenty of. Because of this, and the improvement of their fabric, I would not hesitate to purchase more shirts from IC. However, unless I really loved the pattern of a suit, I'd think twice before I purchased another suit from IC.