Fit Lesson 5: Swimwear.
Posted on August 10, 2009 in Basic Fit Lessons, Fit Lesson, Houston, Summer, Swimwear.
---
Yes, gentleman, you need to be concerned with what you wear swimming. I know, it's a tough world. But, here at PG, we believe that a modern man (that is what you're becoming, isn't it?) should leave no stylistic stone unturned. Every aspect of what you put on your body should be scrutinized to ensure that it looks good, fits you properly, and is exuding the sort of attitude you are intending.
So let's dive in (!).
As is occurring with shorts, hip swimwear has seen a substantial northward inseam rise. I think the swim trunks Daniel Craig wore in Casino Royale also helped to build this into a fervor and is reflected in the general theme for a recent GQ article: "Shorter is Better."
I'm not nearly as opposed to shorter swim trunks as I am to short shorts. I just think very few men should wear swimming trunks like those mentioned in the article, and even then, it should only be when in the right location/occasion. There's no doubt that this look is on-trend and hip, but just like with skinny jeans, it's not a look that should be attempted by every guy.
Read on for what you should wear for your age, the occasion, and personal style.

Elastic Bands
Avoid elastic bands at all costs. This is not a flattering, nor stylish look. This is a dad look. A dad in the 90's. Plenty of quality boardshorts/trunks come sans-elastic, buy those.
When to Wear Shorter Trunks
If you're more fashion-forward and modern, I think you can/should go for the shorter swimming trunks. It's consistent with your style. Just don't wear them too tight, because seeing your junk is definitely not in.
For cool/hip pool/beach parties, you should also go for the more modern look. It's more formal and appropriate for the occasion. You'd look silly rolling up in Reef boardshorts in this type of environment or occasion.
If you're not sporty, and tend towards the more mature side of the spectrum, then boardshorts, no matter the pattern, probably aren't for you. In this case, I'd go for something more reserved than the uber-short trunks, and go for a more mature solid. Such as:
When NOT to Wear Shorter Trunks
If you're a larger guy, as it will amplify your bounty. It's a look that should be reserved for those with slimmer/athletic physiques.
If you're in a place not exactly known for it's hipness (like some areas in the South), avoid these. Unless you possess thick skin, or are a ninja.
For every other occasion, personality, and body type you should be wearing boardshorts. The right kind, with the right fit:
Boardshorts
Just like with shorts, the most common mistake is going too baggy. The key here is to go for slim and precise leg openings, as well as the proper inseam length.
I've noticed that the worse fitting board shorts (too baggy, too droopy) are from brands that should not be making boardshorts at all (JCrew, AE, AF, Gap, etc.). Instead, buy boardshorts from a brand that real boarders would actually wear: Hurley, Quicksilver, Reef, etc. These typically fit better, and are made from higher quality material when compared to the other mass-market brands.
GQ got it partially correct with the trunks – you do want to go shorter. The difference is, that you don't want it 7″ above your knee cap. Again, just like with shorts your boardshort length should hit between the top of your knee cap and just below the knee cap. Odds are, this is shorter than you're used to wearing your boardshorts.
Here are a few examples of quality boardshorts, notice how none of these example have crazy loud patterns. PG does not condone the wearing of such things.
If you're not the athletic type, but feel uncomfortable wearing the tiny-weenie trunks, you can still wear boardshorts. Just focus on the pattern: go for a more short-like look. There are simple plaids and stripes, that still look cool without making you feel like you're a poser.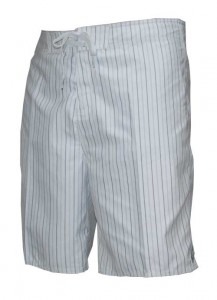 A note for the Houstinites: Soundwaves (I go to the one off of Montrose) has an excellent selection of boardshorts at very reasonable prices (check the huge sale rack).